State by state: An October update on Australia's property markets Michael Yardney / Friday, October 19, 2018
It's time for our monthly whip across Australia's property markets.
Yes, prices have fallen a little further. As you can see from the figures below, combined city capital dwelling values slipped a mere 2.7% over the last 12 months.
This is hardly a 'crash', and the rate of decline is slower than in the previous property market downturn that occurred between 2010 and 2012. Yet the extent of this fall is continuously exaggerated by some media outlets. No, it is not Armageddon, and no, the sky isn't falling.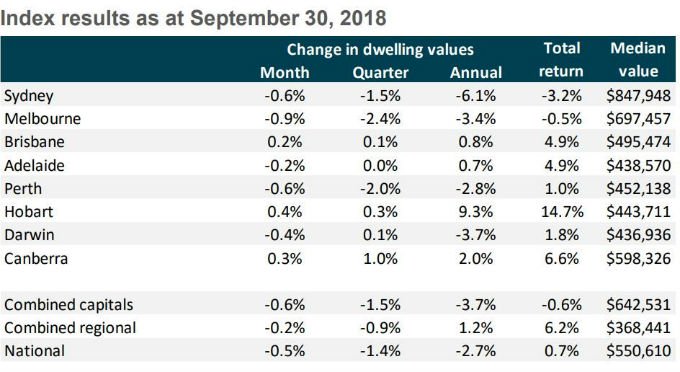 While there's no doubt we are in the slum phase of the property cycle, the correction has largely occurred in the Melbourne and Sydney real estate markets.
Property values have dropped 6.1% in Sydney, but this is after a number of years of double-digit growth, In fact, the value of many Sydney dwellings doubled over the last decade.
And as always, there are markets within markets. The value of some properties in Sydney fell more than others, with some locations and investment-grade properties still holding their values well or increasing.
And there are many locations where property values have increased over the last 12 months. Just look at the figures above for Brisbane, Adelaide, Hobart and Canberra.
A little bit of history
As a result of the mining construction boom coming to an end in 2013, the Reserve Bank of Australia (RBA) cut interest rates to encourage general economic growth.
This led to a property construction boom. Many of the displaced mining construction workers moved to our capital cities to help construct all those new high-rise apartment buildings that now stand tall, proud and somewhat empty.
In other words, the RBA created a property boom by lowering the cost of funds and encouraging investor activity.
At the same time, many foreign investors hopped onto the bandwagon, competing for new and off-the-plan properties.
Sure, dwelling prices rose more than they should have in some locations, but this came to an end, with the Australian Prudential Regulation Authority's (APRA) macro-prudential controls making it harder for investors to borrow money.
Of course, the federal and state governments didn't help when they pulled the welcome mat out from under foreign investors with a raft of taxes and levies that scared many of them away.
Fortunately, we're currently experiencing a soft landing as APRA has orchestrated a sensibly designed credit squeeze which has slowed our markets in a low interest rate environment, meaning fewer investors and home-owners will experience mortgage stress.
The flip side
If property values keep falling to a worrying level, the RBA can easily intervene as it has in the past.
Call me naïve, but I can't see a government of either persuasion or the RBA wanting property prices to fall too steeply, so the good news is many of the measures brought about to slow down our markets can easily be reversed.
Lowering interest rates or stimulating first home buyers through grants or incentives is what's reversed the last two property slumps — back in 2009 and 2012.
However, this may not be necessary this time, as many researchers believe we're already halfway through this downturn.
So let's take a look at what's happening across Australia's property markets as we unpack the latest Corelogic charts and stats.
Putting things into perspective
Look at how big the residential property market is in Australia.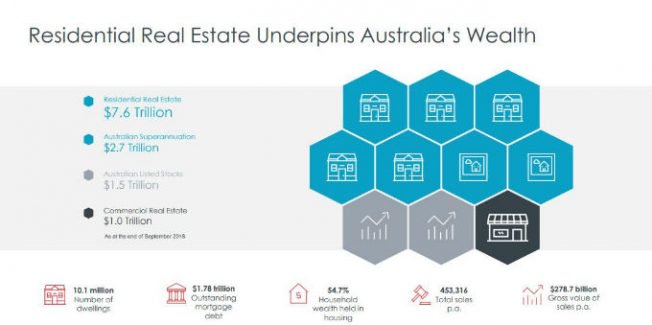 Remember, close to 70% of these homes belong to owner occupiers and about 50% of home-owners do not have a mortgage. And many of those who do have a mortgage are ahead in their payments, having kept up the same payments as interest rates dropped. This is one of the many factors underpinning our property markets.
As always happens at this stage of the property cycle, the more discretionary premium end of the market is showing the greatest value declines.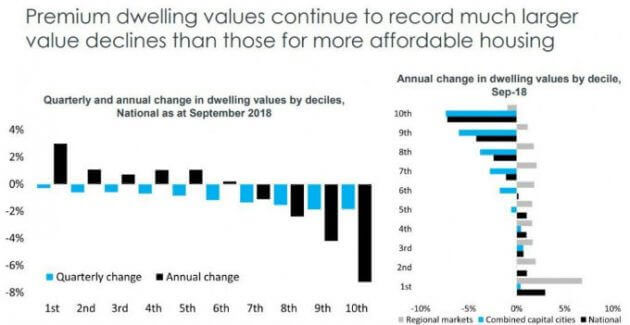 Sydney housing market
The Sydney property market peaked in mid-2017 and real estate values have been falling consistently since then.
Interestingly, there has been a larger decline in the value of houses (down 7.6%) compared to apartments (down 2.6%).
This is in the context of median dwelling prices having increased by 51.0% in Sydney over the last five years.
As the market slowed over the past 12 months, buyer activity has reduced by 18.5%.
With advertised stock levels 22% higher than a year ago and fewer buyers, the average selling time across Sydney has risen to 52 days compared with 37 days a year ago, and auction clearance rates are consistently in the 40% to 50% range.
Strong economic growth and jobs creation is leading to population growth and ongoing demand for property in Sydney. And with underlying demand well ahead of supply, the rental market is tightening.
At the same time, international interest from tourists, migrants and investors continues.
Now more than ever, critical property selection is required to find an investment-grade property that will outperform the property markets
Sydney is currently offering investors an opportunity to buy established apartments in the eastern suburbs, lower North Shore and inner west in a 'buyer's market' with the prospect of the market moving forward again in late-2019.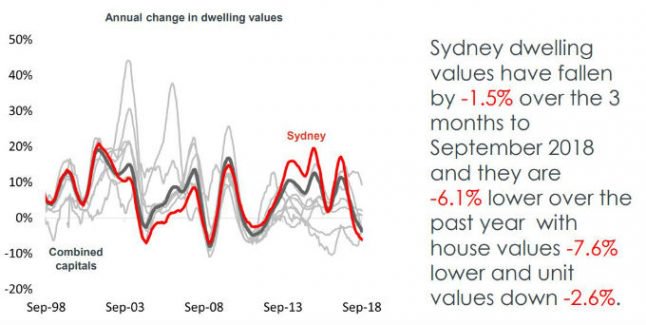 Melbourne housing market
The Melbourne property market peaked in November 2017 and is experiencing a soft landing after five years of strong price growth.
Property values are now 4.4% below their peak.
Weak conditions have been mostly confined to high-value properties, with the top quartile of the market down 6.7% over the past 12 months, while property values across the lower quartile of the market are actually up 4.1% over the same period.
More recently, values have started to trend lower across all of the broad valuation bands as Melbourne's downturn becomes more broadly based.
However, over the past five years, median property prices in Melbourne have increased by 41.5% and over the past decade, they are 77.3% higher.
It is now taking a little longer to sell a home in Melbourne, with the average time on market being 41 days compared to 30 days a year ago.
Similarly, vendors are discounting their asking prices a little more (down 5.9%) than 12 months ago (down 4.6%).
But overall, Melbourne is experiencing a soft landing, with no crash in sight.
While Melbourne's property prices are likely to fall a little further, they will be underpinned by a robust economy, jobs growth, population growth and the influx of 35% of all overseas migrants.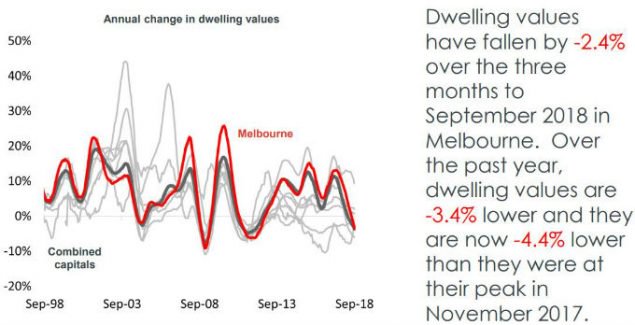 Brisbane housing market
Property price growth in Brisbane has been slow over the past few years, however, dwelling values reached a new record high in September.
And all indicators suggest the Brisbane property market has the potential for significant growth over the next three years, with Queensland leading the nation in net interstate migration over the past year.
One of the positive signs emerging is Queensland's strong job creation, in part due to infrastructure development.
Another good sign is Brisbane's longstanding oversupply of new apartments is slowly being soaked up.
These positive signs have been reflected in shorter selling times, with properties generally selling within 37 days compared to 52 days this time last year.
Similarly, vendors are having to discount their asking price less, down 5.4% compared to down 6.9% in September 2017.
There has been a significant increase in local and interstate consumer confidence, with many more home-buyers and investors showing interest in property.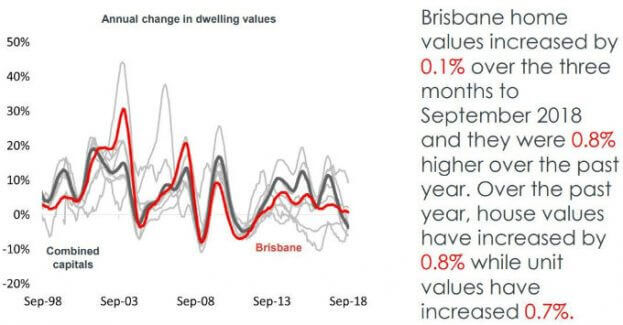 Adelaide housing market
The annual rate of property price growth continues to slow in Adelaide, with property prices up only 0.6% over the last 12 months.
Despite the slower growth rate, houses are selling quicker than they did a year ago. And Adelaide is the only capital city to record a higher number of property sales than a year ago (up 2.5%).
Currently, interstate investors are looking at Adelaide as a future 'hotspot'. But I see few long-term growth drivers in Adelaide, and history has proven this year's 'hotspot' becomes next year is 'not spot'.
Currently, Adelaide is experiencing above-average unemployment rates and poor employment growth.
While Adelaide might be a lovely city to live in and is still very affordable, I suggest investors look elsewhere.
For example, there are better long-term growth drivers in the Brisbane property market.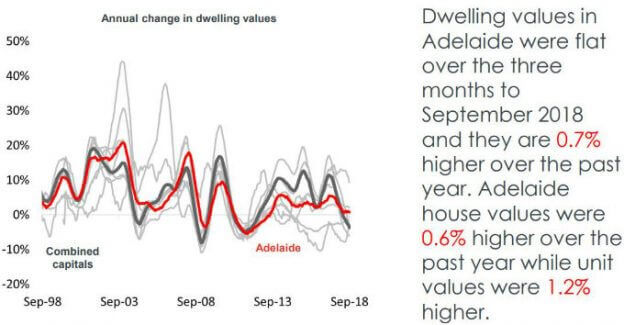 Perth housing market
The Perth property market has been on a downward trajectory since peaking in June 2014.
Although values are still falling, many of the other metrics suggest the Perth property market is bottoming out, though it has not found a floor yet.
Properties are selling a little faster. The average selling time is gradually reducing, falling 73 days from 77 days a year earlier, and vendors are discounting their asking prices by a lesser amount.
Additionally, there is less advertised stock for sale on the market now.
While the Perth market may level out in the next six months, it's much too early for a countercyclical investment in the west. I can't see prices rising significantly for a number of years.
Due to the significant oversupply of new apartments, there is little to no prospect of capital growth or rental growth in the Perth apartment market for many years.
As in other states, Western Australia's population trend has a significant impact on the overall performance of its property market. To get people back to WA more jobs will need to be created.
Hobart property market
Hobart has been the strongest performing capital city over the last two years, but indicators are suggesting this market has now topped out.
Over the last five years, median dwelling prices have increased at about double the rate of household income growth, creating a deterioration in housing affordability.
This together with investors moving their aim to the next 'hot spot' suggests Hobart's property prices may now gently start falling.
Darwin housing market
The Darwin property market peaked in August 2010. It is still suffering from the end of the mining boom eight years on, falling another 3.7% over the last year. House prices are likely to keep falling for some time yet.
Darwin is Australia's most affordable capital city due to its high wages and falling house and rental prices.
Over the past decade, prices are up 30.3% compared to a 60.8% increase in household incomes.
As opposed to the east coast capital cities where many jobs are being created, Darwin had a net loss of jobs last year, showing how its economy is languishing.
Darwin does not have significant growth drivers on the horizon and would be best avoided by investors.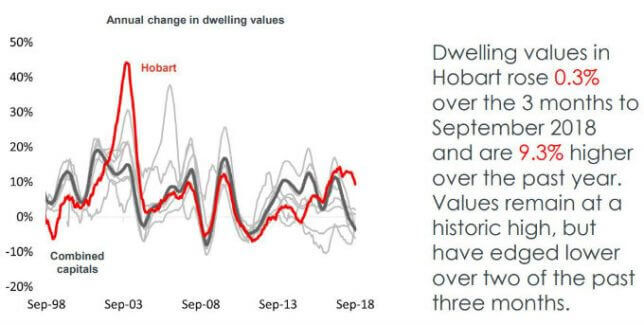 Canberra market update
Canberra's property market is a quiet achiever.
House values increased 3.1% over the last 12 months, but apartment prices are still falling (down 1.4%) which pull down the overall figures.
If history repeats itself, the uncertain political climate leading up to the federal election next year will reduce local consumer confidence and dampen housing demand. But as always, this will correct itself after the election and Canberra's property market is likely to continue to do well.
Our property markets are slowing
Our quieter markets have translated into fewer property sales with transaction volumes 10% lower than they were a year ago.
Settled sales have been down even more substantially in Sydney (down 18.5%) and Melbourne (down 15.8%).
In general, there are two types of vendors. Those who must sell their property because of personal circumstances, and discretionary vendors who are happy to upgrade their homes when conditions are right.
Currently, discretionary vendors are sitting tight, riding out this flat stage of the property cycle.
On the other hand, motivated vendors are still putting their properties on the market, creating great opportunities for homebuyers who are keen to upgrade or investors looking to buy the type of property they would have had to compete strongly for last year.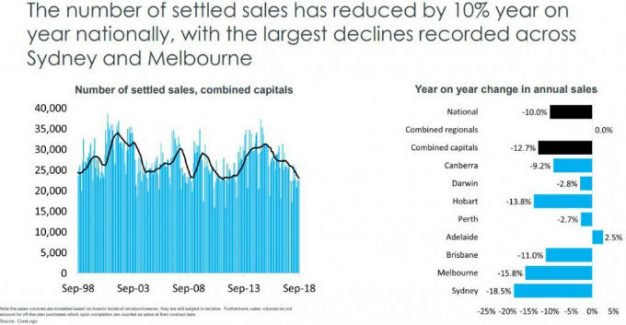 Rental growth has stalled
At the same time as house prices have fallen, rental growth has been sluggish, and rents have fallen a little in Sydney and Darwin.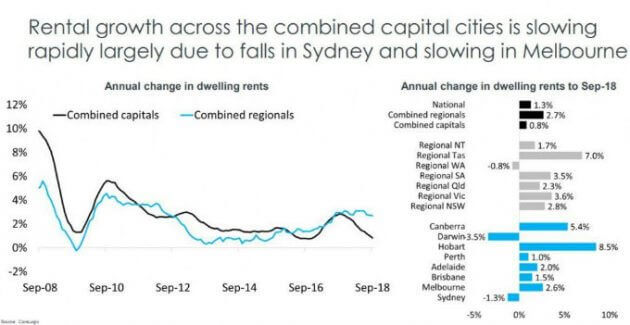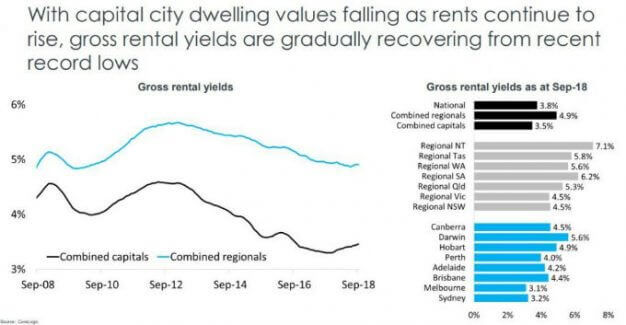 Further signs of our slowing markets are the increased length of time it takes to sell a property, which increased relative to a year ago, as well as the discounting required to make a sale.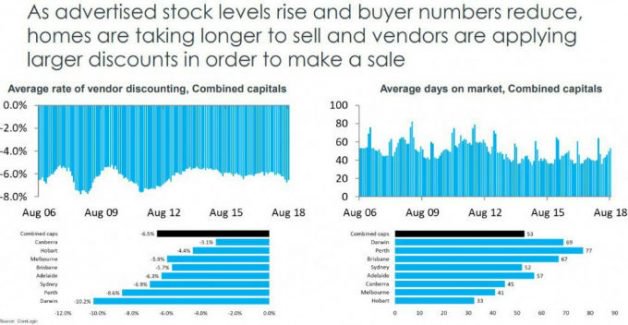 With deteriorating vendor confidence and, as mentioned, with discretionary vendors being reluctant to put their properties in the market, fewer new properties are being listed for sale than there were a year ago.
However, with properties taking longer to sell and with fewer properties selling, there are 9.5% more properties for sale than there were a year ago and this number is even higher in Sydney (22.2%) and Melbourne (16.7%)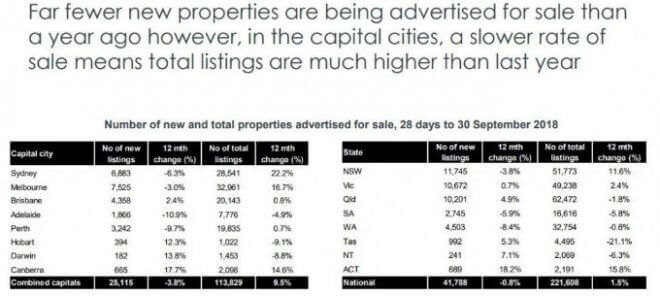 Lower auction clearance rates are another sign of the lack of depth of our property markets.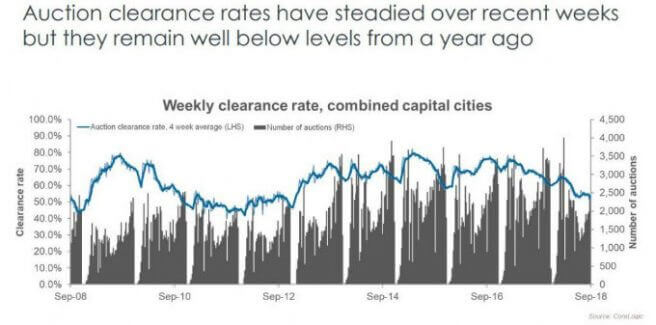 Population growth
Population growth remains strong, however, and this will underpin our property markets.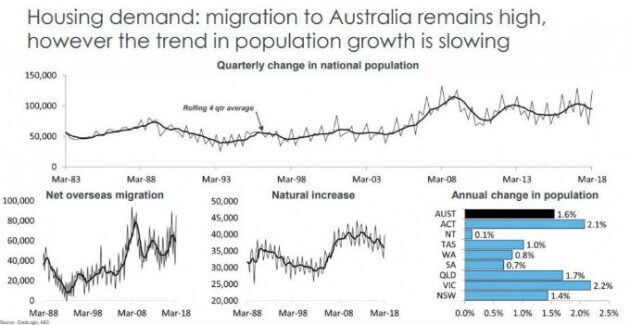 Housing finance
APRA has quelled our property boom and demand for investor finance is waning, leaving owner-occupiers as the dominant source of finance demand.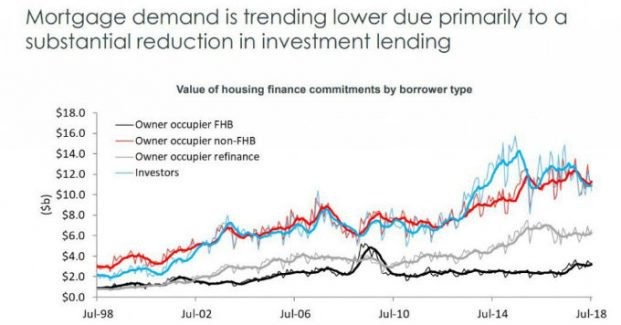 The bottom line
We're clearly in the next stage of the property cycle, one of moderate growth in some regions, virtually no growth in others and falling prices in others.
Australia's property markets are very fragmented, driven by local factors including jobs growth, population growth, consumer confidence and supply and demand.
This makes it an opportune time for both home-buyers and investors to buy as they'll face less competition.
However, correct asset selection is important. Only buy in areas where there are multiple long-term growth drivers such as employment growth, population growth or major infrastructure changes. Similarly, suburbs undergoing gentrification are likely to outperform.